Calendar subject to change at short notice.
Please click on an event in the calendar for full details.
Weekly meetings take place on Thursday evenings and are normally held in the 'Times Square Hall' at Borough Sports Ground unless stated otherwise under Venue in the programme.
Meetings start at 20.00. – Talks start at 20.15 unless stated otherwise in the event.
Living in a Lighthouse
26 July, 2018 @ 20:00

-

22:00

Free
Guest speaker Peter Smith was born and brought up in and around lighthouses. He is the descendant of a long line of lighthouse keepers and has many stories to tell.
Peter says "My paternal great-grand father was a lighthouse keeper, both of my grandfathers were lighthouse keepers and my mother and father met as a result of living with their families in lighthouses. I was born at Sennen Cove, (the village at Lands End) when my father was serving on the Longships Lighthouse – a lighthouse that all of my family has served on. My father and grandfather were also born at Sennen when their fathers were on the Longships. My maternal grandparents first met at Sennen, on lifeboat day 1910 so we have a connection with the village going back over a hundred years"
Peter talks about growing up living in lighthouses fifty years ago, using stories about things that happened to him, his family and other lighthouse keepers. He discusses how his family coped with the problems and benefits of living next to the sea, in isolated places before electricity, televisions, cars, computers and mobile phones.
All lighthouses are now automatic so he was lucky enough to have had, what is now, a unique child hood.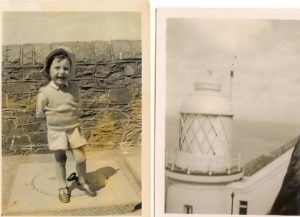 Check out this picture of Peter – taken a little while ago – standing on the water tank at Lynmouth Foreland lighthouse.

Visitors are welcome on any Thursday club night at Borough Sports Ground.