Calendar subject to change at short notice.
Please click on an event in the calendar for full details.
Weekly meetings take place on Thursday evenings and are normally held in the 'MBA Lounge', formerly known as the 'Times Square Hall', at the VBS Community Stadium, Gander Green Lane, Sutton, Surrey unless stated otherwise under Venue in the programme. 
Meetings start at 20.00. – Talks start at 20.15 unless stated otherwise in the event.
Quiz Question
A fairly straightforward one this week aimed at the novice.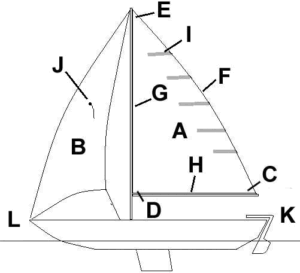 Can you name the parts of the sails ?
Take 'L' and 'K' to be the bow and stern.
Visitors are welcome on any Thursday club night held at the VBS Community Stadium