Calendar subject to change at short notice.
Please click on an event in the calendar for full details.
Weekly meetings take place on Thursday evenings and are normally held in the 'MBA Lounge', formerly known as the 'Times Square Hall', at the VBS Community Stadium, Gander Green Lane, Sutton, Surrey unless stated otherwise under Venue in the programme. 
Meetings start at 20.00. – Talks start at 20.15 unless stated otherwise in the event.

DVD evening – Building the Fastnet Light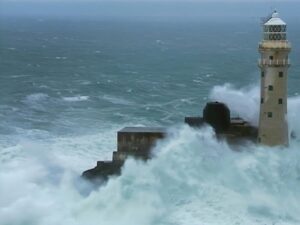 The Fastnet Rock, turning point of the famous sailing race, is situated many miles from land and in some of the roughest water of the Atlantic Ocean, so how did they build the lighthouse there ?
Tonight's DVD will shed some light on it.

Facts about the lighthouse –
Focal height 49m (161ft) above MHWS
Height of tower 54m (177ft)
Characteristics Fl w 5s
Range 27NM
The shipping forecast area is named after it.
Visitors are welcome on any Thursday club night held at the VBS Community Stadium