Calendar subject to change at short notice.
Please click on an event in the calendar for full details.
Weekly meetings take place on Thursday evenings and are normally held at Borough Sports Ground in the 'MBA Lounge', formerly known as the 'Times Square Hall' unless stated otherwise under Venue in the programme. 
Meetings start at 20.00. – Talks start at 20.15 unless stated otherwise in the event.

Ellen MacArthur Cancer Trust
26 April, 2018 @ 20:00

-

22:00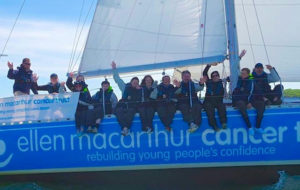 Tonight, Sutton Mariners Sailing Club has invited representatives of the Ellen MacArthur Cancer Trust to come and tell us about their important work with "Sailing Boats – Building Bridges".
They are helping young people recovering from cancer through sailing and boating schemes.
Each year 2,800 young people in the UK finish treatment and happily survival rates are increasing. For these youngsters, a chasm exists between treatment successfully reengaging with social, emotional, educational and employment norms. The Trust fills this gap and there are more young people than ever in recovery who need their help.

All visitors welcome.
Visitors are welcome on any Thursday club night held at Borough Sports Ground.