Calendar subject to change at short notice.
Please click on an event in the calendar for full details.
Weekly meetings take place on Thursday evenings and are normally held in the 'MBA Lounge', formerly known as the 'Times Square Hall', at the VBS Community Stadium, Gander Green Lane, Sutton, Surrey unless stated otherwise under Venue in the programme. 
Meetings start at 20.00. – Talks start at 20.15 unless stated otherwise in the event.

Last Week's Quiz Answer
Let's start with Starboard.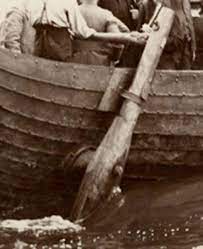 The first form of steerage was an oar attached to the side of a boat and swivelled to give direction. The Old English term for this was 'steorborde' from the Old Norse 'stjόrnborði' which was steer and board being the side of a boat. As the majority of men were right handed, it made sense to place this steering device on the right side of the vessel which became known as the steorbord side.
As it was almost impossible to put boats alongside a jetty etc. on this side, the left hand side was used. This was originally called the 'ladde-borde' side or loading side where goods can be brought on board. It became known as the 'larboard' side but obviously there was confusion with starboard. Due to this side being nearer to the port, the name was changed to the port side.
There was also a 'door' on this side to assist in the embarking/disembarking of people and the loading/unloading of cargo. This was called a 'porthole' not because it was on the port side but from the french 'porte' for door. Porthole has become known as any opening on the side of a vessel that can be closed. The people that carried the goods on board were known as 'porters'. That has now come into common language.
Other words from this are
1. Gun ports which were added to the lower decks and opened to allow cannons to be fired and closed when sailing to stop the sea entering the vessel and,
2. Port light where glass is used in the 'door' to allow light into the vessel.
Visitors are welcome on any Thursday club night held at the VBS Community Stadium